After the 2015 West CrossFit Regional competition, I felt burnt out. I had been competing in CrossFit for six years and needed a break.
But I still wanted something to train for. A goal of some kind.
I have never been an effective long-distance runner. In fact, running was something I feared and loathed. So what better way to attack that fear and give myself something to train for than training for a marathon, right? (it seemed like a good idea at the time).
Getting carried and having the other person run is more my jam…
And so it began. A six-month long running program.
For the record, I'm not suggesting running is bad. And after talking with running and aerobic capacity guru Chris Hinshaw for an hour and a half yesterday, I"m convinced running absolutely NEEDS to be an integral part of a competitive CrossFit athlete"s training program. HOWEVER, I am suggesting training for a marathon-meaning likely spending 4 or 5 days a week mostly running, and often doing long, slow runs-isn't ideal for physical health or broad, general fitness.
Here are my anecdotal observations about what happened when I did the latter:
Fitness
Along with my running program, I continued to train in the gym three days a week to keep my strength and gymnastics skills moving forward. But all the running, especially the long slow runs, meant my training in the gym started to suffer. The day after a 15-mile run, I just couldn't lift the kind of weight I was used to lifting (no surprise, I guess).
I don't attribute losing strength to the running, per se, but more to the fact that all the running meant I wasn't able to spend as much time in the gym, and as a result, I lost both strength and skill in those months.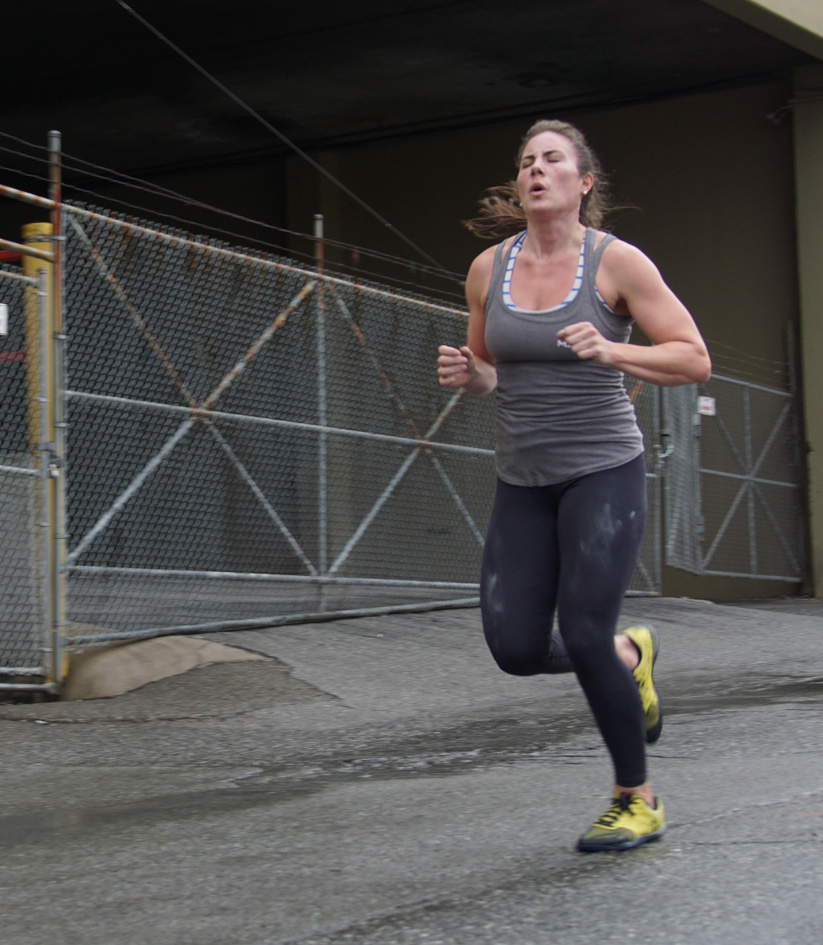 Believe it or not, I"m definitely suffering here even more than I look…
Pudginess
Four months into my running routine, I took a trip to Hawaii in February and realized I just didn't feel as confident as I would like to feel in a bikini. I assume my metabolism just wasn't as efficient when I was running more and doing less strength and interval training, and I just felt generally softer all over. No bueno.
Injured
Up until my first half marathon race a couple months into the running program, my body held up well. But once my runs eclipsed the 22-km distance, shit hit the fan-namely my knee (apparently due to tight IT bands) blew up after every single run, causing me to walk like Frankenstein for a day or two. This overuse injury, of course, meant my intended gym day often turned into a rest day, as even walking was excruciating for the next 48 hours-only contributing further to my fitness and body composition decline. For the record, in all my years of CrossFit, I have never developed any kind of overuse injury the way I did in just 6 months of running.
Poor Sleep
I'm not sure why this started happening, but on my long run days I would find myself waking up at 2 a.m. (without fail), unable to get comfortable and unable to fall back asleep. My muscles and joints just felt like they needed to stretch out to get comfortable, so I would move to our spare bedroom and sprawl on the extra bed until I fell back asleep. This meant I'd be grumpy the next day and unproductive as I tried to make it through a work day.
Ok, ok, it wasn"t all bad…
The positive side was the mental aspect of it:
Despite the physical disasters, I thoroughly enjoyed the process. Each week, I was able to feel a sense of accomplishment of having run further than I ever had before. Each week, I was able to catch up with my loyal friend turned running buddy and enjoy being out in nature together, breathing hard, sweating, and engaging in great conversation. My first half marathon day was a huge sense of pride for me, as I got through it with very little anxiety-something I didn't think was possible when it came to running.
And we got to run all around the beautiful city of Vancouver…
And even now, when running comes up in my weekly training plan, I don't mind it. I'm still not fast. I'm still pretty inefficient. It still hurts me. But I don't dread it the way I used to. When running comes up, I feel like it's no big deal-a big win for me.
But would I ever again take a year off a more balanced training routine to run my ass off?
Absolutely not.
Back in my happy place in the CrossFit environment-judging here-but maybe competing again next year…